---
---
Derwentia perfoliata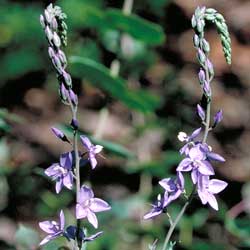 Scrophulariaceae is the family of Derwentia perfoliata. Scrophulariaceae is a large family, having about 220 genera and around 3000 species. It has its greatest diversity in the northern hemisphere, but is also present throughout the southern hemisphere. In Australia we have about 160 to 165 species and 44 genera. The family is cosmopolitan, occupying aquatic to dry-land habitats. Its greatest diversity is in the temperate regions of both hemispheres. In Australia it occurs throughout the temperate, arid and tropical zones, but there are few instances of genera with diversity in more than one zone. Half the genera are introduced such that only five of the 12 tribes present in Australia are represented by native genera.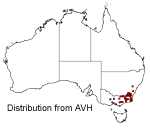 Derwentia perfoliata is mainly distributed in New South Wales, Australia Capital Territory and Victoria. Derwentia perfoliata is closely related to D. arenaria and D. derwentiana, which are all perennial shrubs with varied height, from 30cm to 1m. Derwentia perfoliata mostly grow in drier sites than D. derwentiana. It shows great variation in leaf shape, with narrow-leaved plants mostly in drier areas; broad-leaved plants in moister, cooler sites.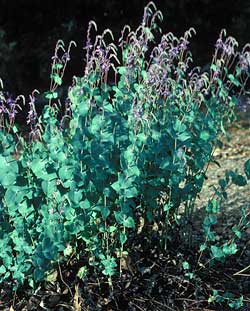 Derwentia perfoliata is a sub-shrub with semi-woody stems. Evergreen foliage of rounded blue-grey leaves clasp the stems in opposite pairs making for a handsome foliage plant is one of the attractive ways of Derwentia perfoliata. The ovate and stem-clasping leaves can grow up to 5 cm long. It has nodding sprays of bright blue flowers.
Propagation is by cuttings or by division of the rootstock. It needs a well-drained site in half shade. Old stems should be removed when flowering is finished to enhance the appearance of the shrub. It could be used as a container plant in a suitably sized pot.
The low-growing plant has a graceful arching habit. The foliage and stems can become frozen to the ground in severe winters but the plant will re-grow from the roots. Derwentia is drought resistant and grows well in the gravel garden or in the rockery.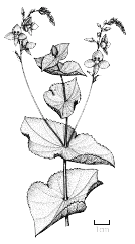 Derivation of the botanical name:
Derwentia - After the Derwent River in Tasmania, as the original description of the type of the genus, Veronica derwentia, cited it growing "...on the banks of the Derwent....".
perfoliata - having 'perfoliate' leaves, wrapping around the stem, so the stem appears to be passing through the leaf, or in this case a joined pair of leaves, as in the illustration, right.
Text by Prudence Ng (Botanical Intern 2003)
References
Briggs, B.G & Ehrendorfer, F. (1992) 'A revision of Australian species of Parahebe and Derwentia (Scrophulariaceae)'. Telopea 5(1): 280, figs 4f, 20, 19 (map)
---
Australian National Botanic Gardens - growing, studying and promoting Australia's flora.
---
Updated Tuesday, 24 June, 2003