The Gardens
Inspiring, informing and connecting people with the Australian flora
The Australian National Botanic Gardens maintains a scientific collection of native plants from all parts of Australia. The plants are displayed for the enjoyment and education of visitors and are used for research into plant classification and biology. A herbarium of preserved plant specimens is closely associated with the living collection.
The Gardens also cultivates plants threatened in the wild. This helps protect them against extinction and provides information which might assist reintroduction to their natural habitat.

TOWARDS THE FUTURE: INSPIRATION, CONSERVATION, EDUCATION AND RECREATION

The Australian National Botanic Gardens has released a new Master Plan for 2015 – 2035.
The Master Plan provides the framework for the Gardens' projected infrastructure to support enhanced visitor experiences, horticulture and research capabilities over the next 20 years.This long-term vision will ensure that the Gardens continue to grow as an outstanding botanic garden for the benefit of generations to come.
MORE INFORMATION ON THE MASTER PLAN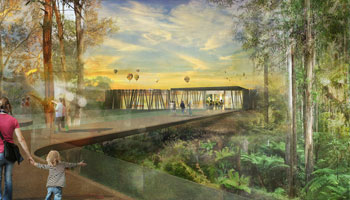 Coming Up
WATTLE WALKS | Enjoy the yellow blush of the Garden's acacias with a guided tour revealing the character and diversity of this species | Mon 31 Aug - Sun 6 Sept | Departing the Visitor Centre at 11 am & 2 pm | Free
BREAKFAST WITH THE BIRDS | Experience the beauty of early morning in the Gardens when birds are at their most active on a guided bird walk followed by breakfast at Floresco in the Gardens. Weekends in September and October | 7.45 am September | Saturdays 19 and 26 September and Sundays 19 and 27 September October | Saturday 3 and 10 and Sundays 4 and 11 October | Bookings essential | Cost: $32.00 for Friends members and $35.00 for non-members
ABORIGINAL (WIRADJURI) CULTURE WITH LARRY BRANDY | Join Aboriginal storyteller Larry Brandy as he shows how Wiradjuri people hunted and found food in traditional times, plus paint a boomerang to take home. Accompanying parents free to participate | Fri 2 Oct | 10.30 am – 12 pm l $10 per child l Bookings essential
Bookings and a full events listing available at the Gardens' What's on page