The Gardens
Inspiring, informing and connecting people with the Australian flora
The Australian National Botanic Gardens maintains a scientific collection of native plants from all parts of Australia. The plants are displayed for the enjoyment and education of visitors and are used for research into plant classification and biology. A herbarium of preserved plant specimens is closely associated with the living collection.
The Gardens also cultivates plants threatened in the wild. This helps protect them against extinction and provides information which might assist reintroduction to their natural habitat.

COMMUNITY OPEN DAY 45TH ANNIVERSARY CELEBRATION

Celebrate the Gardens' 45th anniversary with day of activities exploring and discovering the Gardens. Activities include: Mini Bush Blitz Scavenger hunt Make a bee hotel, Pot a daisy, Rides on the Flora Explorer Garden tours - Construction of the Red Centre Garden tour, Asteraceae Garden tour Jindii ecospa mindfulness pop-up Nature craft in the Visitor Centre Base camp activities Pancakes, sausage sizzle and more...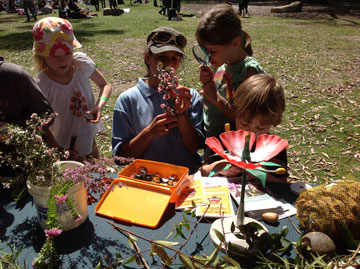 Coming Up
SHARE YOUR PASSION! BECOME A VOLUNTEER GUIDE AT THE GARDENS | Learn and communicate about Australia's unique flora and the work of the Australian National Botanic Gardens. Be part of a group of like-minded enthusiasts who enjoy spending time in the beautiful and ever-changing Gardens environment and learning more about Australian plants.
REFLECTIONS PHOTOGRAPHY EXHIBITION | See how the Gardens have grown in a series of historic outdoor photographic displays within the Gardens. Share your photos and stories as part of our Instagram Reflections Photography Exhibition #anbg45 | Throughout October
CAFE HORTICULTURE TALKS | Join Garden horticulturalists for talks and demonstrations whilst enjoying coffee on the Floresco cafe deck. Hear how they care for the Gardens and learn tips for growing Australian plants in your garden. Thursday 8, 15 and 22 October | 10 am
EAT LOCAL FRIDAY | Enjoy your weekly Farmers Market at the Gardens. Buy chemical and GMO-free produce directly from the growers and makers every week. - See more at: http://www.parksaustralia.gov.au/botanic-gardens/do/whats-on.html
Bookings and a full events listing available at the Gardens' What's on page