The Gardens
Inspiring, informing and connecting people with the Australian flora
The Australian National Botanic Gardens maintains a scientific collection of native plants from all parts of Australia. The plants are displayed for the enjoyment and education of visitors and are used for research into plant classification and biology. A herbarium of preserved plant specimens is closely associated with the living collection.
The Gardens also cultivates plants threatened in the wild. This helps protect them against extinction and provides information which might assist reintroduction to their natural habitat.

FOCUS ON NATURE | PHOTOGRAPHIC EXHIBITION BY THE FRIENDS PHOTOGRAPHIC GROUP


A photo exhibition depicting primarily flora and fauna of the Gardens and Gardens' events | Framed photographs and prints for sale.
27 May – 28 June | 9.30 am - 4.30 pm | Visitor Centre Gallery | Free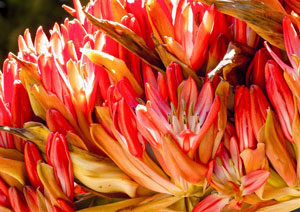 Coming Up
afterDARK Lantern Tours Participate in a lantern making workshop then embark on a fascinating night tour of the Gardens with your own ranger guide | Saturday 6 June, Saturday 4 July and Saturday 1 August 6.30pm | $25 adult, $20 child/conc | Not suitable for children under five years.
Sunday Story Sessions with the ACT StorytellersIndulge in a guided storytelling experience. Explore the themes of Fire and Light in the Australian bush. Begins with morning tea and concludes in the Red Centre Garden toasting marshmallows over the fire. Led by the ACT Storytellers and Gardens' Education Ranger | Suitable for families with primary school aged children.
Bookings and a full events listing available at the Gardens' tourism website What's on page