The Gardens
Inspiring, informing and connecting people with the Australian flora
The Australian National Botanic Gardens maintains a scientific collection of native plants from all parts of Australia. The plants are displayed for the enjoyment and education of visitors and are used for research into plant classification and biology. A herbarium of preserved plant specimens is closely associated with the living collection.
The Gardens also cultivates plants threatened in the wild. This helps protect them against extinction and provides information which might assist reintroduction to their natural habitat.

BUG BLITZ | SCHOOL HOLIDAY PROGRAM
Become a biodiversity detective for the day in our newest school holiday activity at the Gardens. Have a go at using real scientific equipment to catch bugs and mini-spiders as part of our bug blitz, then learn how to identify different species of plants.
Study what you have found using scientific microscopes with the help of qualified entomologists and botanists | FREE event but bookings required | Wednesday 5 October | 10.30am, 11.00am and 11.30am (1 hour program) | Min age 5 years old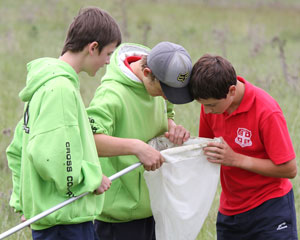 Coming Up
afterDARK – Spring Scavenger Hunts | What will you find in the Gardens at night? Gather your family for a night-time botanical scavenger hunt with treasures and treats to be found. Bring your torch, follow the clues and discover the fascinating plant, insect and animal life in the Gardens at night. Be the first to complete the scavenger hunt challenge and take home the coveted 'super-sleuth' prize. | Bookings are essential and open now | Not suitable for children under five years due to timing and length of tours | Saturdays 1 October (School Holidays), 8 October (School Holidays) and 5 November
Breakfast with the Birds | See the incredible diversity of birds in the Gardens with a knowledgeable guide, followed by breakfast at Floresco in the Gardens | Weekends in September and October 7.45am
More information on these and other events and on how to make bookings is available at the Gardens' What's on page