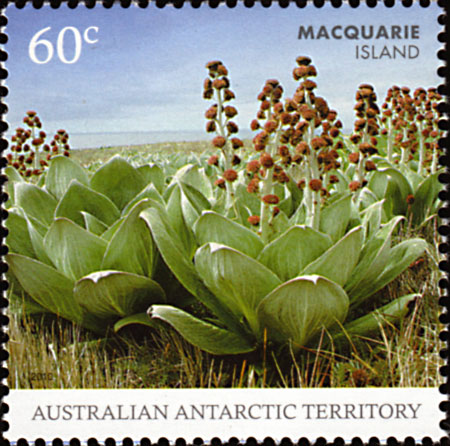 Date of issue: 22 June 2010
Designer: Adam Crapp
Australia Post Design Studio
Printer: McKellar Renown

Plant: Pleurophyllum hookeri

Family: Asteraceae
Silver-leaf Daisy
(wrongly called 'Macquarie Island Cabbage' in Australia Post publicity, this is Stilbocarpa polaris)
It grows up to 900 mm in height and has crimson button flowers forming brown heads after flowering. It has long, silky, silver leaves, with a large carrot-like tuber and long roots. It also has the unusual feature of a vertically contractile stem, most of which is underground, which serves to keep the leaf rosette close to the ground surface and the plant anchored securely against the very strong winds typical of subantarctic islands.
Distribution: Macquarie Island and a few other Antarctic islands.
Propagation Unknown.
Cultivation: Unknown.
Conservation: It is threatened on Macquarie Island by introduced Black Rats and European Rabbits.
---
---