Drawn Together
An exhibition by Mary Preece, Linda Balding, Glenda Borchard, and Randall Sinnamon
Description | About the Artists
Visitor Centre Gallery
1 September - 14 October 2012
Drawn together is an exhibition by artists from the Shoalhaven South coast of NSW that celebrates a diversity of influences and creative mediums. With a wealth of artistic practice and experience Mary Preece, Linda Balding, Glenda Borchard and Randall Sinnamon explore elements of the natural world from different perspectives and expressive art forms.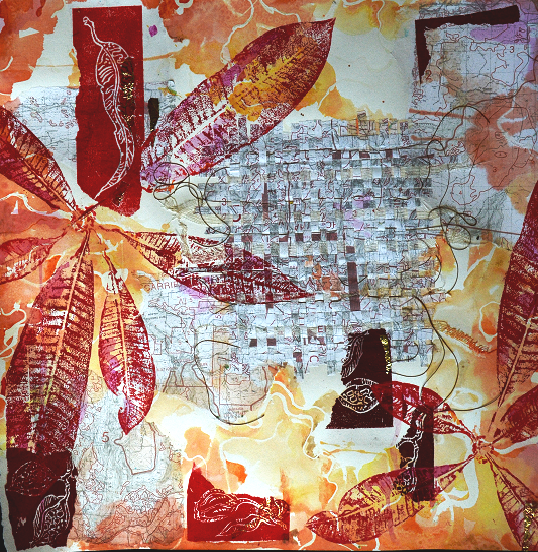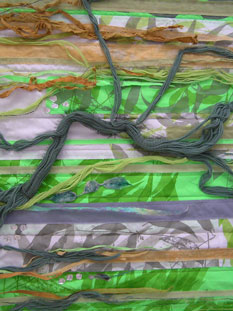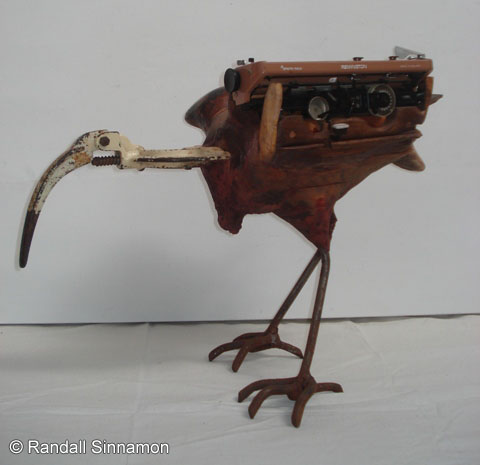 Images: Sense of Place Collage by Glenda Borchard (left); Forest Threads by Linda Balding (middle); Mixed media sculpture by Randall Sinnamon (right)
About the Artists
As an experienced printmaker of 30 years and art educator Mary Peerce's work directly links to the tradition of wood engraving techniques. Mary sources the timber directly from of the Bunya pines that grow at her workplace at Bundanon; to create unique and exquisite detail prints reflecting her connection to the environment.
Linda is an experienced printmaker, textile artist and art educator with many years of experience. The tactile nature of fabric is important in her work as is the use of contrasting materials and textures. Linda's works are semi abstract and often focus on subtle colours and patterns in the natural surroundings as well as the micro environment. Pushing boundaries, Linda combines paint, printing on silk and other fabrics and the use of stitching and collage to interpret patterns in nature in a highly creative application.
As an experienced painter and art educator, Glenda's artwork engages the viewer in a sensory experience and one of exploration and journey. Her works explores flora and fauna and integrates and creates aerial perspectives through topographic maps in collage and mixed media techniques. Her focus is on processes and layering of materials to create narratives hidden and revealed in the work. Glenda draws her influences from her coastal home and the richness of the biodiversity that surrounds her.
Randall also is an experienced artist and art educator whose artworks combine humour and tactility. His sculptures are highly crafted and combine found objects and traditional materials to create intriguing and fascinating artworks. Randall's art practice and inspiration draws directly from his environment. He plays with recontextualizing the everyday object and creates new meaning through the familiar.
"Drawn Together" gives connotations of connection and relationship. The artists know each other as work colleagues, friends and artistic peers. Each artwork brings forth a creative response to the natural world around them and varies perspectives, influences and experiences.