Ducrou Pavilion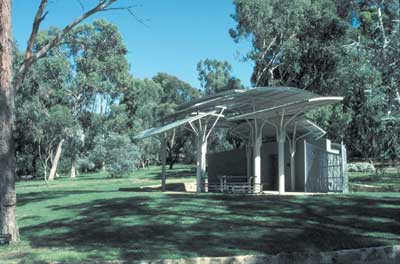 In 1997 the Australian National Parks and Wildlife Service received a bequest from the estate of the late Anne Heather Ducrou. Money from the bequest was used to support wildlife research and to construct a much needed pavilion in the Gardens.
Construction began early in 1999 and the finished pavilion was formally opened on 15 October 1999.
The Pavilion is sited on the Eucalypt Lawn just below the Nursery and adjacient to the Main Path. The building acts as a wet weather shelter for picnickers and is used for some special events.
The designer of the Pavilion was Malcolm Monro and Associates Pty Ltd, they worked hard to ensure that the building did not 'swamp' the special character of the Lawn. The Pavilion features a series of roofs supported by columns ­ abstract 'trees' which help reinforce the importance of real trees to the Gardens' landscape. A special feature is a windscreen constructed of laser cut metal depicting a 'treescape' oand some of the Gardens' wildlife.