The two subspecies of Australian Water Dragons are found along the east coast of Australia:
The Eastern Water Dragon (Intellagama lesueurii lesueurii) is found from Nowra, N.S.W. in the south to half way up the Cape York Peninsula in Northern Queensland. (Shown in green on the Map).
The Gippsland Water Dragon (Intellagama lesueurii howitti) is found south of Nowra, throughout south-eastern New South Wales including the A.C.T. and in eastern Victoria. (Shown in blue on the Map).
Locally Water Dragons can be found around the rivers in the A.C.T. and Queanbeyan areas: the Molonglo river, the Queanbeyan river, the Murrumbidgee river, the Naas, the Gudgenby and Cotter rivers.
The Water Dragons that live in the Australian National Botanic Gardens are part of the natural population that existed along the Sullivans creek (Australian National University) and Lake Burley Griffin (formerly Molonglo river).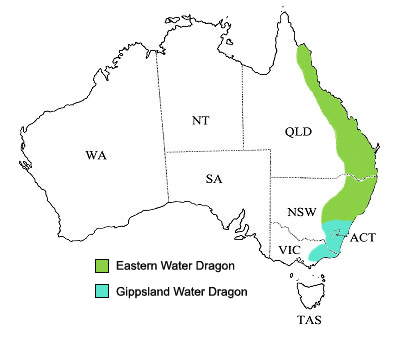 Distribution map taken from Cogger, H.G. 2000
They can be found through-out Eastern Australia along waterways. A study on a healthy population of Eastern Water Dragons along the Gloucester River in central eastern N.S.W. estimated a theoretical population of between 138 – 215 adult Water Dragons per km of the river. They also seem to be very sedentary. Between captures the study found they only moved on average 76 metres (M.B. Thompson, Wildlife Research Vol 20, No. 5 1993).