© Commonwealth of Australia, 2004
ISSN 1443-1238
State of the Parks report (continued)
---
Australian National Botanic Gardens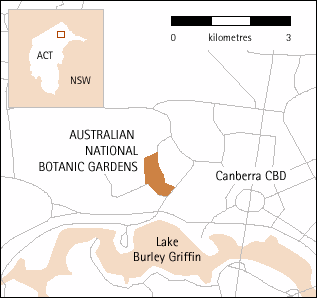 Web site address: http://www.anbg.gov.au/


Special features
The Australian National Botanic Gardens (ANBG ) is a major scientific, educational and recreational resource. It was one of the first botanic gardens in the world to adopt the study and display of indigenous species as a principal goal. One-third of the known flowering plant species that occur in Australia are represented.
The ANBG contributes to Australia's role in promoting the objectives of various international environment conventions. In particular, the Convention on Biological Diversity recognises the importance of botanic gardens in ex situ conservation, in situ conservation, research, training, plant identification and monitoring, public awareness raising, access to genetic resources and global cooperation in relation to sustainable use of plant biodiversity.
Location

Latitude 35°18' South, Longitude 149°08' East
Area
90 hectares
Proclamation date

17 September 1991
IUCN category


IV
Biogeographic context
Houses plants from a vast range of biogeographic regions - alpine to tropical, coastal to central desert
Management plan status
Current plan expires 9 January 2009
Other significant management documents

Management plan implementation schedule; risk assessment and management schedule; ANBG Masterplan (National Capital Authority); Capital Works and Maintenance Plan 2002-05; ANBG Fire Procedures 2002-03; kangaroo and wallaby management plans; ANBG Marketing Plan 2002-03; ANBG Education Service Policy; ANBG Photograph Collection Policy; Agreement for the Establishment and Operation of the Centre for Plant Biodiversity Research between the Director of National Parks Commonwealth Scientific and Industrial Research Organisation (CSIRO ); and the Centre for Plant Biodiversity Research Strategic Plan 2000-04

The ANBG is listed on the Register of the National Estate and the Commonwealth Heritage list

Financial

Operating
$8.19 million
Capital
$2.21 million
Revenue
$0.31 million
Visitors

447 000
Commercial permits
Permits issued for three commercial activities; licences issued for 67 weddings or wedding photography; licences issued to publish 378 photographs from the collection
International conventions and agreements
World Heritage Convention
Supports Australia's World Heritage sites through research, plant collections, horticultural and educational programs
Convention on Wetlands (Ramsar, Iran 1971)
Supports Australia's obligations under the Ramsar Convention through access to data on aquatic plants in the Australian National Herbarium
Other agreements

Collaborative links with international organisations including:

International Association of Botanic Gardens
International Association of Plant Taxonomists
International Plant Propagators Society
International Union of Biological Sciences Taxonomic Databases Working Group
International Plant Name Index (Kew Botanic Gardens and Harvard University)
Global Biodiversity Information Facility
International Organisation for Plant Information World Vascular Plant Checklist Project
International Society for Horticultural Science

Centre for Plant Biodiversity Research
The Centre for Plant Biodiversity Research is a joint venture between the ANBG and CSIRO Plant Industry. It was formed under a 10-year agreement between the Director of National Parks and CSIRO Plant Industry.
The Australian National Herbarium is part of this facility, housing voucher specimens for plants in the ANBG with data supporting the living, herbarium, and photograph collections. The herbarium is a major contributor to the Australia's Virtual Herbarium, a national project involving all states and territories.
Major monitoring efforts
The scientific planting of the ANBG is documented through voucher specimens in the Australian National Herbarium. A team of botanists, including national and international collaborators, ensure that the correct botanical names are always
applied.
A specialised and sophisticated database system maintains essentials links between specimens in the herbarium, contemporary scientific literature, and the plants in the gardens.
A team of ANBG staff is engaged to continually assess the presence and status of the ANBG 's living plant specimens.
Future challenges
Water resource management will be a major challenge for the ANBG . This is due to both the continuing drought and sharp increases in unit water costs to major users in Canberra. Some work has been done to identify non-potable water supplies and recirculation opportunities. This work will continue.
Maintaining the ANBG 's growing role as a tourist attraction will remain a key focus. Continuing to offer interesting visitor attractions, like the Friends' summer concerts and guided tours, will be important.
The Friends of the ANBG have now established a tax deductible public fund, allowing them to improve their fundraising activities.
Work on Australia's Virtual Herbarium will continue into 2004-05, including redeveloping the Internet application and interface, and increasing data entry rates.
The ANBG 's database applications are being redeveloped, involving tighter integration of plant name, living collections, herbarium and plant image data.
ANBG is embarking on a new phase of plant records and facilities management using Geographic Information Systems to record and visualise the location status of plants, amenities and services.

Report on performance by key result areas
Key result area:
natural heritage management
Major issues
Water management infrastructure
Outputs
Increase efficiency of water use
Improve propagation facilities
Performance results 2003-04
Met Australian Capital Territory water use reductions targets (Stage 2 and Stage 3 - 25 per cent saving)
Maintained a voluntary agreement with ActewAGL to reduce water use in accordance with current restrictions
Participated as a water ambassador in the ActewAGL 'Stop the Drop' campaign
Completed construction of a replacement nursery (value $4 million over two years), which was opened in June 2004
Key result area:
cultural heritage management
Major issues
Outputs
Provide interpretation and education programs for all sectors of the community
Performance results 2003-04
Hosted two major exhibitions - 'The Plant Underworld-Cryptogams' and 'The Ladybird Chronicles'
The ANBG classroom interactive botanical and environmental programme was expanded and more staff were allocated with additional resources
Birrigai education programmes continued to be jointly managed by ANBG and Birrigai staff
Consultancy established to provide interpretive signage for Sydney Region Flora section of the ANBG
Key result area:
visitor management and park use
Major issues
Visitor management in emergencies
Outputs
Develop a visitor safety plan
Performance results 2003-04
Safety plan implemented for annual summer concert series, covering issues such as parking, visitor access and safety, and fire safety. Several concerts were cancelled due to severe fire risk. Professional first aid support was enlisted, new traffic control measures implemented and additional staff rostered
Key result area:
stakeholders and partnerships
Major issues
Outputs
Strengthen the partnership between the ANBG and the Friends of the ANBG
Performance results 2003-04
The Friends of the ANBG operated the annual summer concert series, annual students' photographic competition, autumn and spring plant sales, published quarterly newsletters, provided volunteer guided walks each day, and committed $20 000 in funding for specified projects
Key result area:
business management
Major issues
Safety
Organisational change
Outputs
Improve staff and visitor safety
Improve use of resources
Performance results 2003-04
Started developing improved safety management system
Reorganised areas of management to more effectively apply resources
Gross revenue was two per cent above target
Costs were one per cent above target
Key result area:
biodiversity knowledge management
Major issues
Australian National Herbarium
Integrated Botanical Information System
ANBG -Centre for Plant Biodiversity Research web site
Outputs
Make botanical data, information and expertise available to the national and international botanic community
Continue to enhance the plant biodiversity knowledge base in the herbarium and associated databases
Promote and provide information about Australian native plants via the Internet
Performance results 2003-04
27 715 specimens were databased and contributed to Australia's Virtual Herbarium
Contributed considerable scientific and technical expertise to the Global Biodiversity Information Facility
About 18 200 hits were recorded on the web site each day
Public access was upgraded to the Integrated Botanical Information System databases


CASE STUDY: No shortage of energy for new production nursery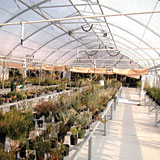 The new nursery can produce 40 000 plants per annum.
The new energy-efficient nursery at the Australian National Botanic Gardens (ANBG ) was a major undertaking. Completed in May 2004, it is the largest single development since the ANBG were officially opened in 1970.
The nursery can produce up to an average of 40 000 plants and around 2000 species each year. It features double-skinned polyhouses with a retractable roof and side panels, and sophisticated heating and cooling systems to reduce the amount of power needed. Run-off from the site is treated and reused for irrigation, and composting toilets further reduce the water use.
Good project management meant that both the local consultant group and building company were committed and positive in their approach. ANBG staff were consulted in the design and construction phases and contributed a wealth of experience to the project.
The natural slope at the eastern end of the site was used to incorporate two levels, with a lower floor area to house vehicles, bulk materials, a water recycling plant and extra storage space. This means there is more space freed up for the main nursery facilities on the platform at ground level.
The design also ensures that all plant production areas are grouped together to make the operation more efficient. Other buildings are separated from the production areas, to make it easy for people and vehicles to get around the nursery.
Safety is a major priority and the nursery's location at the northern edge of the gardens ensures it is well away from major public use areas.
The nursery was designed by Gutteridge Haskins and Davey Pty Ltd and built by Binutti Constructions Pty Ltd, a Canberra-based company.
CASE STUDY: The Sentinels - art for gardens' sake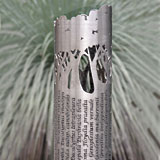 The Sentinels provide new interest for visitors.
The Sentinels, unveiled in April 2004, are the latest works of art to grace the Australian National Botanic Gardens.
Made up of nine sculptural bollards, The Sentinels will help visitors appreciate the significance of the Gardens and the importance of Australian plants. The bollards teach people about the Gardens by listing a range of plant species. They also help to control vehicle access to the Gardens.
Melbourne sculptor, Simon Taylor, was commissioned to design and produce the nine stainless steel bollards which stand guard at the Garden's entrances. New adaptations of laser technology were used to carve the names of 1000 endangered, vulnerable and extinct native plant species onto the The Sentinels.
The Sentinels are part of the Gardens' Public Art Masterplan, the development of which was funded by the Friends of the Australian National Botanic Gardens. The masterplan describes the conceptual basis for art in the Gardens and the rationale for commissioning art. The Gardens' Art Advisory Committee oversees the masterplan's implementation of the programme.