2002-03


© Commonwealth of Australia, 2003
ISSN 1443-1238
---
Part D - State of the Parks report (continued)

Australian National Botanic Gardens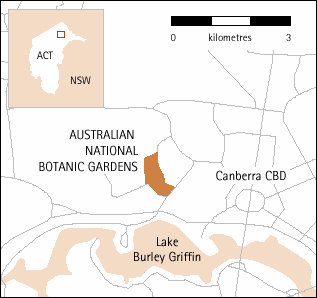 Web site address:
http://www.anbg.gov.au/
Special features
The Australian National Botanic Gardens (ANBG ) is a major scientific, educational and recreational resource. It was one of the first botanic gardens in the world to adopt the study and display of indigenous species as a principal goal. One-third of the known flowering plant species that occur in Australia are represented.
The ANBG contributes to Australia's role in promoting the objectives of various international environment conventions. In particular, the Convention on Biological Diversity recognises the importance of botanic gardens in ex situ conservation, in situ conservation, research, training, plant identification and monitoring, public awareness raising, access to genetic resources and global cooperation in relation to sustainable use of plant biodiversity.

Location


Latitude 35°18' South, Longitude 149°08' East

Area

90 hectares

Proclamation date


17 September 1991

IUCN category



IV

Biogeographic context

Houses plants from a vast range of biogeographic regions - alpine to tropical, coastal to central desert

Management plan status

Current plan expires 9 January 2009

Other significant management documents

Management plan implementation schedule; risk assessment and management schedule; ANBG Masterplan (National Capital Authority); Capital Works and Maintenance Plan 2002-2005; ANBG Fire Procedures 2002-03; kangaroo and wallaby management plans; ANBG Marketing Plan 2002-03; ANBG Education Service Policy; ANBG Photograph Collection Policy; Agreement for the Establishment and Operation of the Centre for Plant Biodiversity Research (CPBR ) between the Director of National Parks and Wildlife and Commonwealth Scientific and Industrial Research Organisation (CSIRO); CPBR Strategic Plan 2000-2004

Financial


Operating

$7.11 million

Revenue

$0.27 million

Capital

$2.52 million

Visitors


377 000

Commercial permits

4 permits for commercial activities; 35 wedding site/photography licences; 235 licences to publish photos from collection
International conventions and agreements

World Heritage Convention

Supports Australia's World Heritage sites through research, plant collections, horticultural and educational programs

Convention on Wetlands (Ramsar, Iran 1971)

Supports Australia's obligations under the Ramsar Convention through access to data on aquatic plants in the Australian National Herbarium

Other agreements

Collaborative links with international organisations including:

International Association of Botanic Gardens
International Association of Plant Taxonomists
International Plant Propagators Society
International Union of Biological Sciences Taxonomic Databases Working Group
Global Biodiversity Information Facility
International Organisation for Plant Information World Vascular Plant Checklist Project
International Society for Horticultural Science

Centre for Plant Biodiversity Research
The Centre for Plant Biodiversity Research is a joint venture between the ANBG and CSIRO Plant Industry under a ten-year agreement signed by their parent bodies, the Director of National Parks and CSIRO. The Australian National Herbarium is part of this facility, housing the voucher specimens for plants in the ANBG with data supporting both the living and herbarium collections. The herbarium is a major contributor to the national Australia's Virtual Herbarium project.

Report on performance by key result areas


Key result area:
natural heritage management
Major issues
Water management

Infrastructure
Increase efficiency of water use

Improve propagation facilities
Performance results 2002-03
Developed strategy to meet a water use reduction of 15 per cent

Negotiated voluntary agreement with ActewAGL to reduce water use

Commenced construction of replacement nursery (value $4 million over two years) due for completion in 2004
Key result area:
cultural heritage management
Major issues
Performance results 2002-03
Hosted three major exhibitions: 'The Plant Underworld - Cryptogams'; Helen Leitch's 'Nature Personified'; and Robyn Stacey's 'At First Site'

Established the Gardens Classroom, an interactive botanical and environmental education program

Jointly presented the Birrigai education program following Canberra's bushfires
Key result area:
visitor management and park use
Major issues
Performance results 2002-03
Developed a safety plan for the annual summer concerts, covering issues such as parking, visitor access, fire safety
Key result area:
stakeholders and partnerships
Major issues
Performance results 2002-03
Key result area:
business management
Major issues
Safety

Organisational change
Improve staff and visitor safety

Improve use of resources

Performance results 2002-03

Commenced development of improved Safety Management System

Reorganised areas of management to more effectively apply resources

Gross revenue was 1% above target

Costs were on target
Key result area:
biodiversity knowledge management
Major issues
Australian National Herbarium

Integrated Botanical Information System

ANBG -Centre for Plant Biodiversity Research web site
Make botanical data, information and expertise available to the national and international botanic community

Continue enhancement of the plant biodiversity knowledge base in the herbarium and associated databases
Performance results 2002-03
35 500 specimens were databased and contributed to Australia's Virtual Herbarium

Considerable scientific and technical expertise was contributed to the Global Biodiversity Information Facility

About 15 000 web pages were accessed each day

A new fungi web site was developed

Future challenges
Water management will remain a key issue with Canberra facing continued and tighter water restrictions due to the continuing drought and restricted water supply. Fire protection will also take on added emphasis in the coming summer, depending on weather patterns.
Completing the major nursery development on budget and on time will be an important focus for 2003-04. Plans for the redevelopment of the old nursery site will be completed.
Work on Australia's Virtual Herbarium will continue, with the project reaching the halfway point during 2003-04.
The living, herbarium and photograph components will be integrated in the ANBG 's botanical database during 2003-04.

Maintaining the ANBG 's growing role as a tourist attraction will remain a key focus. Continued provision of interesting visitor attractions, like the Friends' summer concerts, and providing guided tours will be important.


CASE STUDY: Orchids and a fungus - a partnership in evolution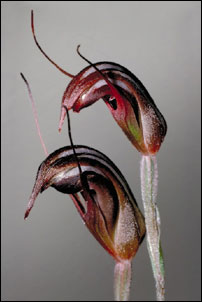 Scientists at the Centre for Plant Biodiversity Research are looking at the relationship between a particular group of orchids and a fungus that grows on the orchids' roots.
Orchid-fungi associations are of great significance in the ecology of orchids, with all species partly or fully dependent on root fungi, particularly during germination and early establishment.
A three-year study supported with outside funding is being undertaken to research this complex biological and evolutionary relationship between two completely different organisms.
Recent studies of the orchid genus Pterostylis have led to new understanding of the evolution of this group of orchids and have opened up new opportunities for scientists to study the corresponding evolution of the orchids' root fungi. The research aims to determine the extent to which evolution of the orchids and of the fungi have depended on their interaction.
The research could have important long-term consequences for conservation, as it could lead to better methods of in vitro propagation of endangered species of these orchids, and to improving revegetation techniques in rehabilitation areas.
CASE STUDY: The Gardens Classroom - a new approach to botanic gardens education
The Australian National Botanic Gardens has developed a new program, the Gardens Classroom, a nature-based education service for local primary schools.
The program complements the self-guided and Explainer-led services that primarily target interstate visitors.
The Gardens Classroom involves use of greenhouse and outdoor propagation areas and the Banks Garden, which has been redeveloped for educational use. Some special resources that students can use (which are not generally available to them in their schools) include an extensive collection of unusual craft materials and tools, stereo microscopes, a flex-camera, propagation equipment and an outside story circle.
Teachers prepare their day's activities and can bring up to 60 students at a time. The all-day program can include any of the self-guided and Explainer-led activities, art and craft from the 'Gardens in a Box' resources, and special activities, like plant propagation and looking at life in freshwater, which are presented by Gardens' staff and other experts.
To date three teacher accreditation workshops have been held to familiarise teachers with the program and facilities, and to provide hands-on experience with the resources.
A leading education consultant has been engaged to assist in the development and evaluation of the program. A very successful pilot program involving 550 children was run in Term 2, and sponsorship is being sought to fund teacher-presenters who can also help develop new activities and learning resources.