Leptospermum brachyandrum family MYRTACEAE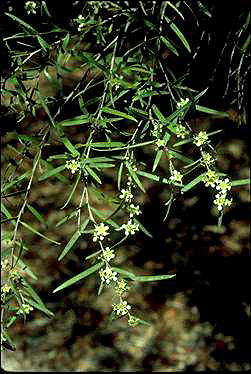 (Syn. L. abnorme)
Tall, open shrub to 4 m, usually with exposed trunks with flaky, bark displaying colours of grey and soft pink. Leaves are narrow-lanceolate to 5 cm. Flowers are small, white, and occur in spring and early summer.
Distribution: NSW, Qld (often alongside creeks; often in water).
Propagation From seed or cuttings.
Cultivation See note on genus. The colourful trunk is an important feature. Can stand moist and shaded positions. The pendulous plant often sold under this name and said to be of NT origin, is L. madidum ssp. sativum from north Qld.
Suitable for poorly drained areas.
Suitable for heavy shade.
Frost-hardy. (Plants given an this rating will tolerate frosts to -7°C in conditions of normal rainfall.)
May be used as features.
Attractive bark or trunk.
(?) Suitable for tree trees.
Suitable for use in tropical areas.
---
text from 'AUSTRALIAN NATIVE PLANTS, 4th ed'
by Wrigley & Fagg, Reed Books, 1996
---