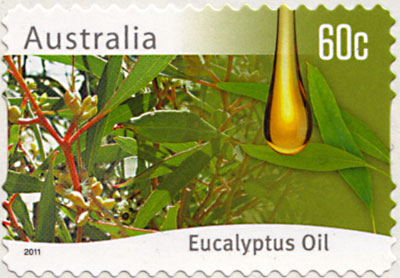 Date of issue: 17 May 2011
Designer: Wayne Rankin
Australia Post Design Studio
Printer: McKellar Renown
Adhesive-backed stamp on white paper sheet. Also available as 'scratch-&-smell' sheet of 10 stamps in a folder.
Plant: Eucalyptus polybractea

Family: Myrtaceae

Blue Mallee
Mallee of restricted natural distribution in semi-arid areas near Wyalong in western NSW and near Bendigo in Victoria. The leaves have a bluish-green appearance, the flowers are white. One of the highest yealding eucalypts for the distilation of eucalyptus oil and now grown in large plantations in eastern and western Australia.

Propagation: From seed.
Cultivation:
Broadacre plantations
---
---