Mistletoes - biogeography
Loranths of the Gondwanan element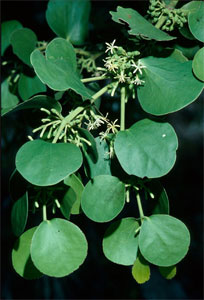 Cecarria obtusifolia
The primitive genus Cecarria occurs in rain forests of north Queensland and New Guinea. It is probably of ancient origin on the Australian part of Gondwana, and may be basal to all the other 9-chromosome loranths, and is therefore part of the relict subelement. It has made a limited intrusion across the contact zone, reaching Timor, Flores and the Philippines.
There are primitive, relictual small genera in southern Australia, including the terrestrial Nuytsia

and Atkinsonia


, and also Muellerina

. With their adaptations to open forest and woodland habitats, they are clearly part of the autochthonous subelement.
Other genera centred on the Australian/New Guinean area have almost certainly originated there. Like Cecarria, they are all 9-chromosome loranths. The large genus Amyema

has 60 of its 92 species in Australia/New Guinea, but has advanced through Indonesia and the Philippines, and just reached the Asian mainland. Dactyliophora

(2 species) occurs in north Queensland and New Guinea, and is near the stem of the Amyema stock and somewhat relictual. In contrast, Diplatia

(3 species) occurs widely in open forests in northern Australia, and is clearly derived from Amyema.
Distrianthes (1 species), Papuanthes (1 species) and Sogerianthe (4 species) are small, derived genera, confined to New Guinea, and probably no older than the vertical uplift which has formed the New Guinean highlands. They are 9-chromosome stocks and appear to be related to Amyema.
Genus

Chromosome
number

Number
of species

Distribution

Gondwanan

Relict

Cecarria

9

1

N Australia-Philippines

Autochthonous
(old austral)

Nuytsia

12

1

SW Australia

Atkinsonia

12

1

E Australia

Muellerina

11

4

E Australia

(tropical)

Dactyliophora

9

2

Australia/New Guinea

Amyema

9

92

Australia to Thailand

Diplatia

9

3

Australia

(young endemics)

Distrianthes

1

New Guinea

Papuanthes

9

1

New Guinea

Sogerianthe

9

4

New Guinea

Intrusive

Indogondwanan
(old Asian)

Macrosolen

12

30

India to New Guinea

Lepeostegeres

12

9

Malaya to New Guinea

Decaisnina

12

25

Philippines - Australia

Cyne

?

6

Philippines - N Guinea

Amylotheca

12

4

S Asia to Australia

Dendrophthoe

9

38

Trop Africa/Asia to Australia

(young endemics)

Lysiana

12

8

Australia

Benthamina

9

1

Australia
The Australian region thus has a diversity of loranths which can be traced back to the original Gondwanan flora. They include the most ancient terrestrial loranths, other primitive relicts, and a diverse assemblage of derived and specialized groups, some of which have advanced beyond the Australian region as far as the Asian mainland.
Find out more about the Intrusive Element by clicking the button below:
---
Written by Bryan Barlow, updated 8 December, 2014 by webmaster, ANBG (anbg-info@anbg.gov.au)
---