---
---
Derwentia derwentiana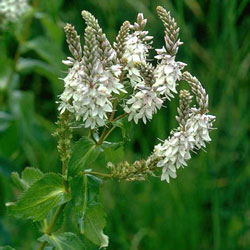 Derwentia derwentiana is a beautiful perennial species that is capable of brightening any native garden. Derwentia derwentiana, more commonly known as the Derwent Speedwell belongs to the family Scrophulariaceae. The Derwentia genus is often wrongly confused with the Parahebe , which is similar in physical form to Derwentia .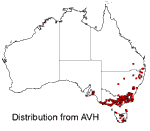 D. derwentiana is a high country species that prefers colder climates and so it thrives prolifically in the sub-alpine regions of NSW, Tasmania and especially Victoria. It is frost tolerant, withstanding temperatures as low as -12 °C to -7°C. It is also found in the colder regions of Queensland and South Australia. In these regions D.derwentiana exists in a habitat of m oist forests on hills and often growing on roadside banks. It is found in a variety of plant communities, from eucalyptus forests to alpine herbfields.
D. derwentiana is a compact erect and robust herb or sub-shrub and reaches heights of 50-150 cm. The stems are up to 1m long and the leaves are 5-20 cm long. There is also a smaller alpine form growing in Kosciuszko with shorter, more ovate leaves.
The flowers of D.derwentiana are spectacular because they are clustered into dense, colourful heads at the end of each branch. These branches can often hold up to 100 flowers in each cluster (inflorescence). The flowers are usually white to pale blue and the buds of the plant are an attractive pink to lilac colour. The flowering season is in summer in November until December, however if the conditions are right it can flower for up to 6 months.
Propagation is most successful using cuttings, preferably using tip cuttings. The cuttings will do well potted up in coco peat and respond well to bottom heat and misting. Root hormones can also be added to encourage root growth. Within 2-4 weeks of propagation D.derwentiana is ready to plant in your garden. Seeds are not readily obtained, but if available should be sown fresh. Plants should be positioned in shade or dappled sunlight. It is hardy in most soil types as long as the moisture is kept up.
D.derwentiana is a popular species for attracting butterflies and blue-banded bees to the garden due to the colourful and numerous flowers. The flowers themselves flower from the base of the inflorescence upwards. This staggered flowering ensures a good show for extended periods, making it a desirable species to have in the garden.
Derivation of the name:
Commemorates the Derwent River in Tasmania where the type form grows.
Text by Kirsty Elwell (2005 Student Botanical Intern)
References
Briggs, B.G. & Ehrendorfer, F. (1992) "A revision of Australian species of Parahebe and Derwentia (Scrophulariaceae)". Telopea 5(1): 242-62.

Clarke, G. & Clarke, G. (2001) Australian Plants for Canberra Region Gardens and Other Cool Climate Areas. Goanna Print, Australia.

Codd, P., Payne, B. & Woolcock, C. (1998) The Plant Life of Kosciuszko. Kangaroo Press Australia.

Gardening Australia (2003) Flora's Native Plants. ABC Books.
---
Australian National Botanic Gardens - growing, studying and promoting Australia's flora.
---
Updated Wednesday, 29 June, 2005