Australian National Botanic Gardens
Growing, studying and promoting Australian plants

GPO Box 1777
Canberra ACT 2601
AUSTRALIA

Telephone (02) 6250 9546
Facsimile (02) 62509599
Media enquiries: Paul Ziesing (M) 0418 955 661

NEWS RELEASE
The smell of the Elephant Yams
Three specimens of one of the Botanic Gardens' most unusual plants – the Elephant Yam – are now in full flower in the Display Glasshouse. The flower of the Elephant Yam (Amorphophallus paeoniifolius) is a large purple knob with a scent like rotting flesh to attract its pollinators, carrion flies and beetles.
The Elephant Yam is found in tropical Queensland and Northern Territory in seasonally dry areas and also occurs through the tropics, from India to Papua New Guinea. It belongs to the Aroid family, which also includes more familiar house and garden plants such as Arum lilies and species of Monstera and Philodendron.
Because it is a tropical plant from monsoonal areas it requires ample water during the growing season but also needs a dry period. At the Botanic Gardens plants are removed and stored dry during winter and replanted each spring. A high phosphorus fertilizer is occasionally applied to ensure maximum growth and health of the plant.
The Elephant Yams should remain in flower for about a week and can be viewed in the Display Glasshouse from 10.00am to 3.00pm each day.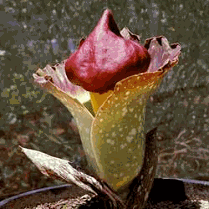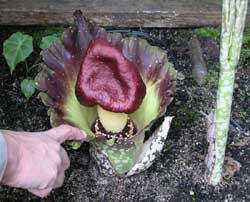 19 November 2004

Media contact:
Paul Ziesing
Communications Officer
Australian National Botanic Gardens
(02) 6250 9546 and 0418 955 661
paul.ziesing@deh.gov.au
---
Updated 19 November, 2004 , webmaster, ANBG (anbg-info@anbg.gov.au)
---